On Thursday, September 10, 2015, I arose early, eager for a long-awaited adventure – a trip into the Guatemalan jungles – an expedition to explore the place where my favorite Cacao Shaman (Keith) first connected with the fruits and magical seeds of that sacred plant.
This post contains 122 photos from that fun and magical day. I first connected with cacao trees in the southern mountains of Belize while living in a tiny Mayan village in early 2010 … but after working with Keith for close to four years, I had never visited the area where he first found the cacao that has been such a profound facilitator in my own healing journey.
This post ends with a heartfelt summary of these last four magical months. I am profoundly grateful that I followed intuitive nudges telling me to make a stop here on my return journey from Peru.
As usual, the photos in this post are thumbnail images. Please click on any photo to enlarge it. The thumbnails leave much to be desired as far as colors and resolution – plus the thumbnails clip all of the edges. I use thumbnails for the post itself, because it gives people an opportunity to get a summary glimpse without downloading huge amounts of data for the high-res photos.
CLICK ON ANY PHOTO TO ENLARGE TO HIGH RESOLUTION
An Early Start
I was up before the break of dawn, quickly whipping up a small pot of fresh oatmeal, hurrying to gobble it down so I could begin the quest.
Keith and his sweetheart Barbara had originally planned the trip as a way to introduce their full time workers to the origins of the cacao trees – the source of the cacao that his workers help to process and ship to places all around the world. Keith later invited others of us to join. When I walked down to the boat dock near Keith's house, I arrived ten minutes early, and was the first one there. I had no idea at the time just how many of us might end up going.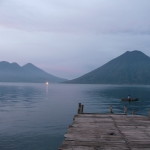 As I waited by myself, enjoying the beautiful scenery, a magical lake surrounded by volcanoes and cool mountain air, I spotted the light of a boat. It was the boat that Keith had arranged to pick us up, and to carry us across the lake to Santiago.
The San Pedro volcano is the one on the right, and the town of San Pedro La Laguna sits right at the base of the volcano, slightly to the right of the photo.
The distant volcanoes on the left are volcan Toliman and volcan Atitlan.
Our first destination (Santiago) is at the base of the first distant volcano, directly behind the light of that boat.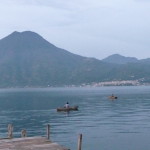 Zooming in on the San Pedro volcano, with a portion of the town visible in the right center of the photo.
The real reason I took this photo is that I wanted to capture a glimpse of those two fishermen, each in their own wooden canoe. Such fishermen are often out on the lake at the break of dawn, beginning their daily labors.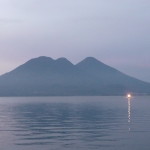 Looking toward the other two volcanoes. Volcan Toliman is the first one, with its twin peaks on the left. Volcan Atitlan is the peak on the right. It is taller, but further away.
The light of the boat is getting brighter and closer … and still, I am enjoying alone time on the dock.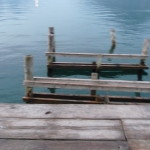 The lake level is constantly shifting here. It is about three feet higher than it was when I left in 2013. This lower part of the dock is almost under water, so they removed the boards.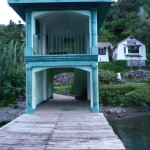 I am waiting on this upper dock, just below this small two story building. This is a public dock, but is not the main one where most boats stop on a frequent basis. Keith's house is less than five minutes walking from here.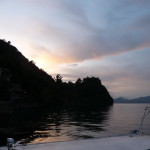 Since my camera automatically adjusts to the light, the previous photos all appear to be taken in broad daylight.
This glance to the east shows that the sun is just barely beginning to expose itself over the eastern mountains.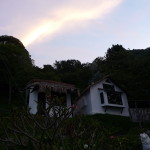 This is a little hotel that is situated very near to the dock. I have never stayed here.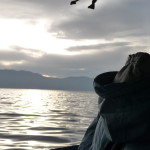 Finally, eight of us are on the boat as we head over to the public dock to see if there are any more people waiting for us there. Those of us on the boat right now are Keith, Barbara, Isaias, Isabel (Isaias's beautiful wife), Leo (Isaias's baby), two of Keith's other workers, and me.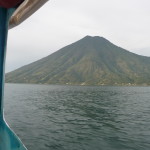 One other person (Raine) was waiting for us at the public dock … bringing our numbers to nine. Soon, we are zooming across Lake Atitlan, headed toward the left side of the San Pedro volcano.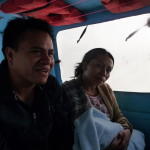 Isaias and Isabel (holding Leo).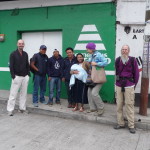 After about a twenty-five minute boat ride, we disembark in Santiago and walk through the lower part of town where we wait on the sidewalk for some type of transportation that will take us to the town of San Lucas Toliman (another town on the lake where I have never before visited).
Left to right are: Raine, two of Keith's workers (sorry, don't remember their names), Isaias (Keith's full time worker for more than 12 years, and my dear friend), Isabel (with Leo), Barbara, and Keith.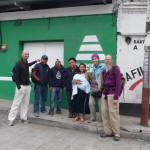 Another similar photo.
We are waiting for a pickup truck where we will ride in the back. One passes by, but it is so full that the nine of us would never have squeezed in …
Soon, a large "chicken bus" (old school bus, now used for public transport) pulls by and we climb aboard.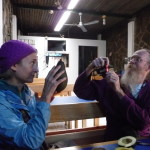 Twenty minutes later, we are in San Lucas Toliman (my first time here). We briefly explore the market before settling in at a nearby restaurant where we enjoy breakfast together. Some of us bought a bunch of freshly cooked corn tortillas. Others ordered from the restaurant. Keith brought a few avocados from the market as well.
In this image, Barbara is modeling one of the avocados while Keith takes her photo.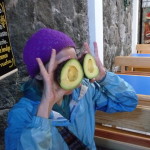 After cutting it in half, Barbara plays with the avocado.
It was already a very fun day.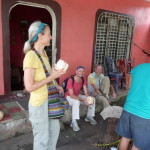 After breakfast, we find a minivan that will take us on the next leg of our journey, which is a few hour drive up over the mountain behind San Lucas Toliman (not very high at this side of the lake) … and then on down the Pacific-coast side of the mountains, headed in the direction of the Pacific Ocean. We only go about half way to the ocean, stopping twenty or thirty miles away.
After getting out of the minivan, we stop for fresh coconuts, and more play time.
The climate here is already very hot and humid.
In this photo: Barbara, Raine, and Keith.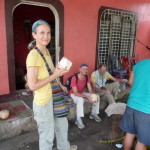 Another similar photo, with Barbara glowing at the camera.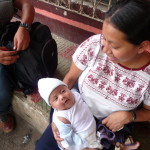 My sweet friend Isabel with her adorable little Leo.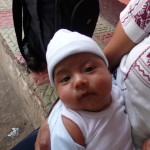 Zooming in on Leo.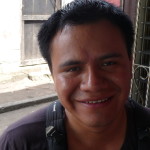 Isaias … such a magical young man. I was thrilled to participate in a ceremony about three years ago where he completed his training as the first Mayan "Tat" (shaman) in San Marcos for more than a generation.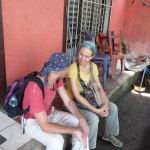 Raine and Barbara, enjoying a fun chat.
And then Leo decides to share a HUGE grin.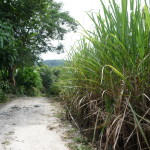 After our fun break, with coconuts, giggles, and grins, we walk over to a nearby street to wait for another form of transport. Eventually, we give up on waiting for a minivan and flag down two Tuk-tuks (motorcycle taxis) to take our group on a fifteen minute ride up on a paved side road, back up toward a mountain ridge.
After arriving at our destination (the small town of El Recuerdo) , we begin a forty-five minute walk up into the mountains.
In this photo, we are first walking next to a sugar cane field, crossing over a small river valley.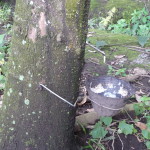 Someone notices this rubber tree. That little tube is stuck into the tree and then drains into a bucket on the right.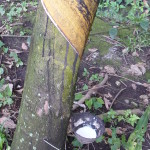 They also cut the bark, as in the upper part of this tree trunk, leaving a sloped diagonal portion of bark where the liquid rubber flows down into the bucket below.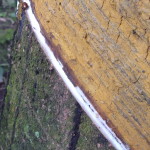 A close-up of the cut portion of the bark where the rubber is slowly flowing with gravity.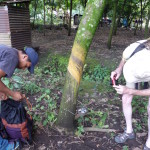 Stepping back with a zoomed-out view of the tree.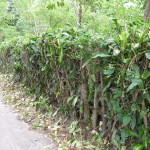 It was back in 2010 when I first fell in love with the way many rural Guatemalans build fences. They actually plant live trees and then prune them back to be like a fence … the posts are living, and have solid roots that keep them anchored to the ground.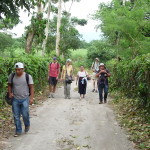 Most of our group, following behind me as I run ahead to get a photo.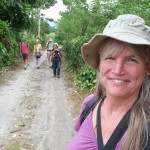 And I get one with me in it as well. I love my smile in this one. We are all having a lot of fun.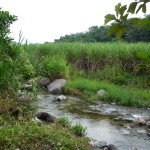 A small stream that runs through the sugar cane fields.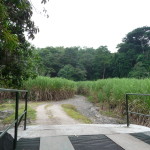 A small bridge … more sugar cane … and then we begin our ascent into those trees beyond.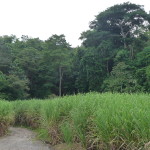 … more of the same.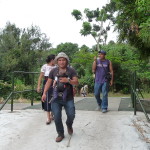 Isaias, carrying Leo in a modern baby carrier. Most of the local people still wrap their baby in colorful fabric and carry them over their shoulder.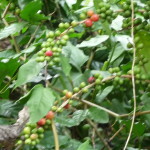 A blurry photo of some coffee beans. When they are red, they pick them, ferment them, dry and roast them … and then grind them. I have tried eating the berries many times, but the fruit of the berries is so thin, that I just barely get a taste of sweetness before I hit the hard coffee bean … not my kind of fruit.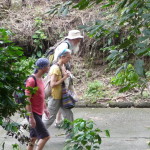 Raine, Barbara, and Keith, walking on the road below me. The road is beginning to climb up into the mountains now.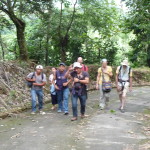 I ran ahead to get all of the group in this photo. It is getting steep here.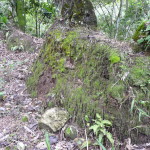 Some of the jungle growth along the road.
This is not deep, original growth jungle … but it is beautiful just the same.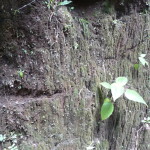 The texture of this earth and the plants growing on it … well, it just catches my eye.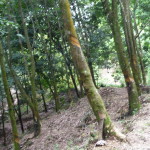 More rubber trees growing beside the road.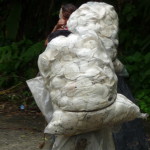 When I saw these young men carrying huge bags of these white things, I thought it was mushrooms at first. Then, someone pointed out the obvious. These are huge bags filled with clumps of dried rubber from the rubber trees.
These must be very heavy. It is difficult to see here, but the bulk of the weight is suspended by straps across the front of their forehead. (Click to enlarge for a better view.)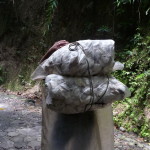 Another young man carrying two large bags of rubber.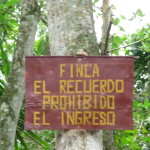 A sign that reminds me of the name of the town below (by the main road) "El Recuerdo".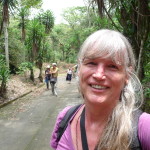 Another photo as I get hotter and sweatier … it is quite warm on the Pacific side of these mountains … a rain forest climate rather than high mountain climate.
… and another. That is one of Keith's workers in the left foreground … and Raine in the background.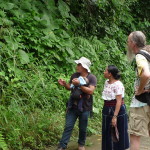 Isaias (with Leo), Isabel, and Keith … looking and talking about something on the side of the road.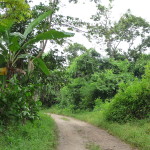 After going through some very steep climbs, the road begins to be more flat and gentle.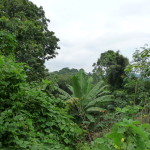 We are on the top ridges of some very tropical hills … perfect climate for growing cacao.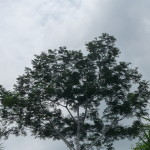 A towering tree that caught my eye.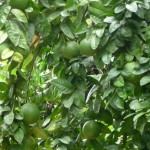 Some large lemon / orange / grapefruit type of fruit. I thought they were grapefruits. Keith thinks they are a unique version of lemons.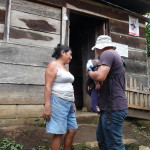 Finally, we arrive at our destination. For privacy reasons, I am choosing not to mention the name of the village. This is our hostess, Eva. She heads up a small eco-project (working with a super-food named Maya Nut, Ramon Nut, or locally called Ujuxte) in this town … and is the woman who sold Keith his first ceremonial grade cacao over twelve years ago.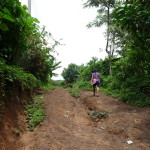 Eva takes us on a hike out into the cacao fields near her village.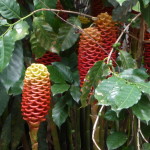 Some gorgeous flowers that grow in this part of the world. I have some growing in my yard. There are seven or eight inches tall, and quite solid and waxy to the touch.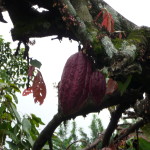 Cacao pods, growing on this tree branch. Unlike many fruits, cacao grows from flowers that bloom from the main trunks and branches of the cacao tree.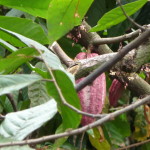 Another cacao pod.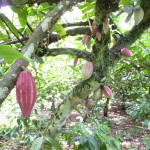 And many more (one in foreground, many in background).
Different varieties of cacao have different colors. Some are ripe when they are yellow, some when they are brown, some when they are purple …
The best ceremonial cacao comes from the native (criollo/wild) varieties found in the Pacific slopes of Guatemala. Most commercial cacao in the world comes from hybrid varieties, which have less of the active compounds – most (but not all) of which could not be used in ceremony.
More cacao.
The trees in these early photos do not belong to Eva … they are just the first ones that we see as we head out to her property.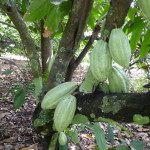 These pods are still very green. The main cacao harvest in this area is still four to six months away.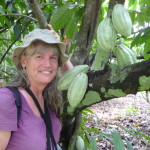 Me, posing with these cacao pods.
I love the energy of these trees.
It makes me "go to glow". If you click-to-enlarge, you might see why I consider this to be one of my favorite photos ever. In spite of my tired and sweaty body, I am glowing … and I absolutely love the colors of purples and greens, especially the cacao pods (not visible in this thumbnail image) and jungle.
I loved this photo so much that I recently made it my profile photo on Facebook.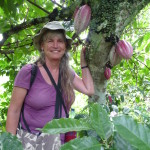 Another similar photo.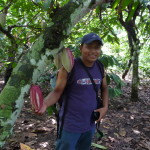 One of Keith's workers, posing with the tree and cacao pods.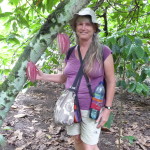 It was hot and sweaty, so I unzipped the legs of my pants, making shorts. I was quite proud of myself for not even worrying about the little bugs in the tall grass. I just ignored them all. Later, I realized that I took a few chigger bites home with me.
As mentioned earlier, the pods grow from the trunk and main branches of the cacao tree. I put my finger behind these blossoms in order to show how tiny and delicate they are. These tiny flowers are growing directly out of this thick trunk, and each will eventually (if all develops properly) turn into a large cacao fruit, each filled with forty or fifty cacao seeds.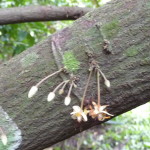 More blossoms growing out of this thick side branch.
Keith, Barbara, and Raine, walking on the trail behind me as we continue out toward Eva's property.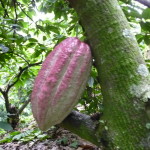 Another large purple cacao pod.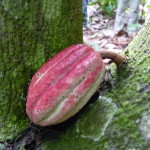 And another. These pods are around eight or nine inches in length.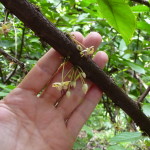 A smaller cacao branch with more tiny flowers on it.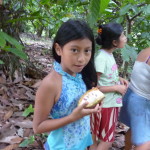 One of Eva's daughters holding a portion of a cacao pod – one that has been cut open to expose the sweet-tart white pulp that surrounds the purple seeds.
These pods are not very ripe, and therefore, not the best for eating. They need to grow for several more months before they are ready to harvest.
After harvesting, they are cut open and fermented, after which the beans are then dried in the sun.
Keith buys beans that have been processed in this way, and then has them lightly roasted and hand pealed by one of fourteen families in San Marcos La Laguna, after which the beans are ground in a traditional mill. The grinding process melts the chocolate, which is then spooned into plastic bags which harden into a solid block when they cool.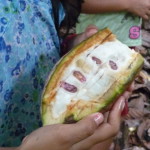 A closer view of this cacao pod. In this photo you can see that these fresh beans are quite purple in color.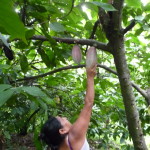 Eva, reaching up to pick another pod that is not quite ripe.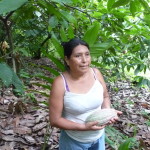 Eva, proudly posing with her freshly-picked cacao pod.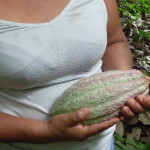 Zooming in for a closer look. These varieties of pods are ripe when the deeper cracks of the pod are slightly yellow in color.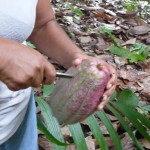 Eva, cutting open this not-so-ripe pod.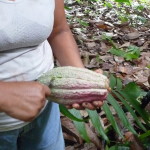 The outer portion of the pod is hard and thick. It takes her about five minutes to carefully break this open with her tiny knife. Normally, they would chop these open with a machete.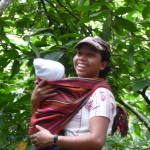 Isabel, holding Leo in a more traditional wrap.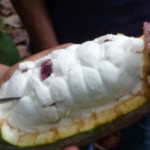 Eva's cacao pod is now open, and one of the purple cacao beans is exposed. When they are fresh in the pod like this, the beans are quite soft. When they are fermented and dried, they have the look and feel of a hard almond.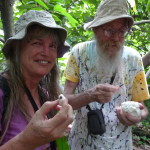 Keith and I, munching on our treats.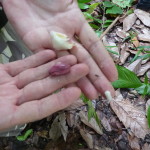 In my right hand (lower) I am holding the raw, purple cacao bean. In the left hand (upper) is the white pulp that I took off the bean.
In these wild beans, the white pulp is thinner and smaller … but in South American varieties of cacao, the white sweet-tart pulp is thicker, and even used in smoothies in some places (I never tried one while in Ecuador).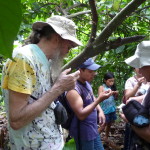 Many of our group munching away on the cacao fruit and beans. Keith and Isaias are the two in the foreground …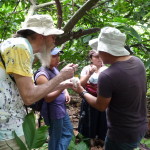 Keith, holding his camera, taking a photo of what is in Isaias's hand.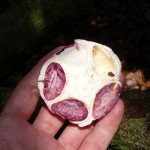 After eating one of these purple beans, I took a photo prior to eating the rest.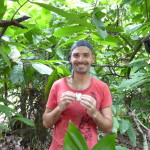 Raine, enjoying his chunk of cacao fruit.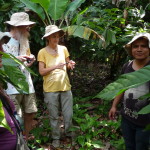 Raine borrowed my camera for a while, and took many photos. In this thumbnail image, I am barely visible on the left. Visible are Keith, Barbara, and Isaias.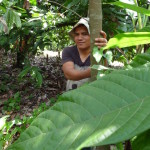 Isaias posing with a tree.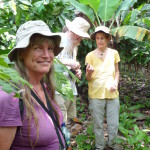 Keith and Barbara appear to be in deep discussion about the quality of their cacao fruit … while I grin in the foreground.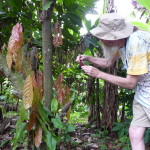 Keith taking photos of this smaller cacao tree. The leaves of cacao trees are quite unique.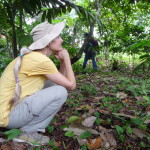 Barbara, contemplating other dimensions of reality …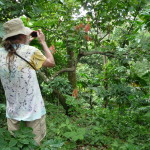 Another candid photo of Keith, who is taking photos of more cacao leaves. Raine is still using my camera (I began to wonder if he would ever give it back LOL.)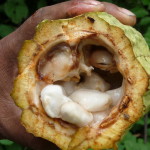 Someone found a partially fermented half-pod, lying on the ground. You can see the fruit starting to decay and shrink. The fermentation process consumes the fruit, turning it to liquid alcohol, which then converts to vinegar prior to drying up and draining away.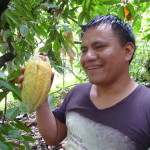 Isaias excitedly grinning while holding a cacao pod that he is going to take home with him.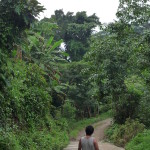 I am back using the camera again. In this photo, we are going for a long walk on a quest to find the Maya Nut Tree that Eva says is nearby.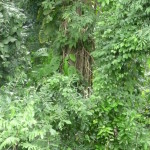 Zooming in on the trunk of this Maya Nut Tree. These trees grow to over 200 feet tall, and drop little seeds on the ground that are a very nutritious super food. The local people here are beginning to eat them, but most Mayan people in the area still ignore this richly nutritious food source.
It was the woman running this project (Maya Nut Institute) that first introduced Keith to this village. He participated in a volunteer project with her, and then found his first ceremonial-grade cacao growing around this village.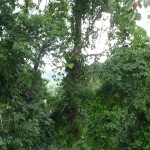 A photo with less zoom, showing part of this very tall tree. We don't go down to the base of this tree, because it is on a steep slope at least seventy or eighty feet below the road.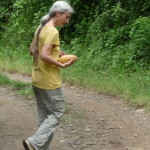 Barbara, holding a fruit that she and Keith are taking home with them.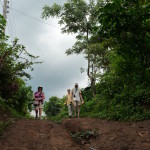 Raine borrowed my camera again (previous photo too).
At the top of the hill, left to right, are me, Barbara, and Keith.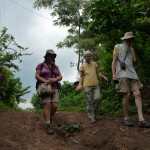 A similar photo, taken as we get closer.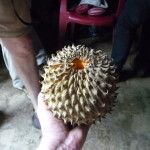 After arriving back at Eva's humble home, she feeds us part of a fruit that I have never before (or after) seen. I do not remember the name.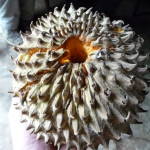 Slightly zooming in on this incredibly unique fruit.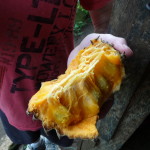 Inside, the fruit is yellow, stringy, and sweet. I enjoyed it, but it was quite messy to eat.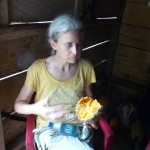 Barbara enjoying part of one fruit.
These grow on a tree in Eva's yard, and are super ripe. They need to be eaten today or she will have to throw them away enligneviagra.net.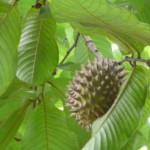 One of these fruits hanging from a tree in Eva's back yard.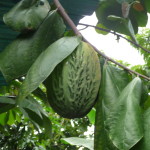 Keith knows the name of this fruit, but I keep forgetting. It is a "relative" of cacao … similar in many ways, but is not good for ceremonial cacao.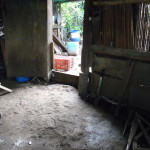 A view as I pass through the back portion of Eva's house. This is quite typical for this part of the world … a dirt floor in what is a very humble kitchen area.
Looking a little to the right, showing her stove – a homemade wood burning stove with a metal grill on top.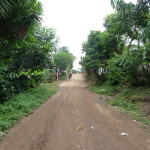 A view of the street in front of Eva's house.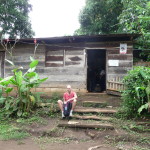 Raine, sitting on the steps in front of Eva's house. We mostly gathered just inside of that door behind where Raine is sitting.
It may look humble, but in this part of the world, such a home is an abundant thing, and meets all of their needs.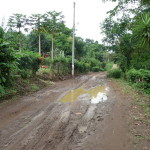 Looking the other way on the street. We had to walk around this puddle as we entered the village.
We were quite lucky today to have no rain during our time in the village – especially since we are in the middle of rainy season here.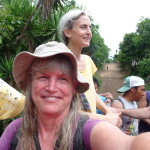 Rather than walk back down to the main road, we decide to rent a pickup transport. Visible behind me are Barbara and one of Keith's workers.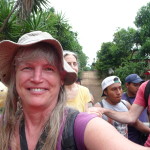 In this photo, I manage to get both of Keith's workers … and if you click-to-enlarge, you can see Raine on the right.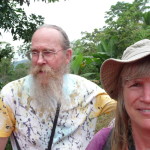 Keith and I, up at the front of the truck bed, right behind the cab. I was hugging a middle support and standing half-on-half-off a large tire … making it difficult and awkward to comfortably maintain my balance during the ride back down to the highway.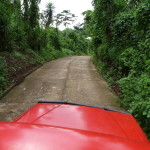 Looking forward at one portion of the road. This photo makes it appear as if we are going up the hill … but memory tells me we had to have been going down.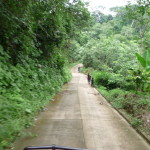 Going down another section of this little mountain road. It is quite well paved right here. The pickup truck takes us all the way to the main highway, where we again squeeze into a crowded public mini-van. After changing mini-vans in San Lucas Toliman, we take another mini-van all the way back to Santiago.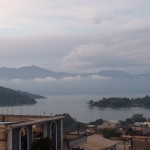 After a delightful restaurant meal in Santiago, we climb to the roof of the restaurant where there is a beautiful view of the surrounding area. In this photo I am looking back across Lake Atitlan (through the opening of a little bay). San Marcos is over on the far side of the lake, just below that tallest mountain in the distance.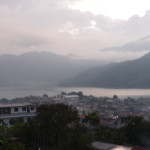 A blurry photo looking to the left, into the  bay that extends beyond Santiago. The Mystical Yoga Farm is just over there on the right, on the side of that near hill. This is a place that I occasionally visited when I was assisting Keith back in 2011 and 2012.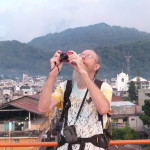 Keith, taking photos on top of the restaurant.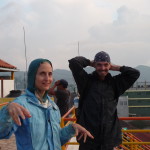 Barbara and Raine having fun up here at this gorgeous view area. As you can tell, it is getting a little chilly as the sun starts to disappear.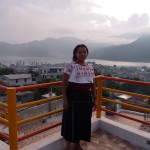 Isabel, posing with a huge smile (but I didn't use a flash).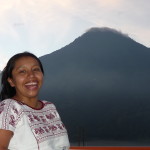 I absolutely adore this photo of Isabel and the San Pedro volcano. The flash lit up her face with a glow of giggling perfection.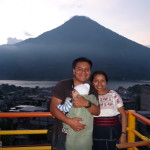 Isaias, Isabel, and Leo … such a magical family. They have another son, Jansen, who stayed behind with extended family. Leo needed to come along because he is still breastfeeding.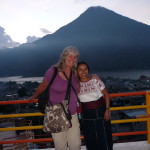 Me, with Isabel. I am five feet six inches, and I tower above her (even as I bend over slightly).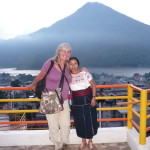 A similar one with a flash … but Isabel forgot to smile.
After taking photos, the sun was already gone. We hurried down to the boat dock where we found our driver, who whisked us away on a private boat ride back to the far side of the lake. I was back in my little house by 6:45 p.m., happy but exhausted.
San Marcos Wrapup
When I first left my magical little river playground in Calca, Peru, I absolutely knew that a brief stop in Guatemala felt like something that definitely needed to happen before returning to the United States. But as I began to explore Peru, and then Ecuador, I still had no idea just what the timing of such a visit would be. It was not until right before going to Quito that I received intuitive confirmation that I would forgo my desire to visit Panama, Costa Rica, Nicaragua, and El Salvador … and that I would fly directly from Quito to Guatemala City. Then, after being robbed during my bus ride to Quito, it took every bit of intuitive courage that I could find to continue pursuing that guidance.
I am  so extremely grateful that I found that strength to trust and continue on to San Marcos for a magical reunion with my cacao friends in San Marcos La Laguna … on the magical shores of Lake Atitlan, Guatemala.
During these profound four months of healing and integrating, I have gone deeper to the core of my soul than I ever imagined possible … exploring and healing many core emotional issues that have held me hostage throughout my life … core issues that could only be brought to my attention while coexisting in a group environment.
Because I had such a difficult time there in the 2012-2013 cacao-ceremony season, I had wondered if I would even be welcome back in cacao ceremonies … but Keith opened his porch to me with a huge heartfelt grin, and I knew I was exactly where I needed to be.
During those four months of ceremonies, I think I played out and repeated nearly every dysfunctional pattern possible, but this time around I was able to giggle and own that they were "MY" patterns, and I was able to look inside rather than to project them onto others. Even though at times it took several hours, I always found deep gratitude when someone triggered me. Each trigger was a gift to more healing within myself … and I increasingly began to feel the energetic shifting immediately after each such event.
My time in this magical energy vortex is now at an end (for now). As I type these words, I am sitting in a small hotel room, just three blocks from the noisy city center of Antigua, Guatemala. Just three days ago, I was treated to another "burglary" of sorts. On Thursday night, someone entered my property, went up on the side of the hill above my house, and cut the internet cables. In the dark of a new moon, they made off with the equipment that wirelessly connected my house to an internet transmitting station across the lake.
But rather than feeling victimized, I explored the metaphor to its core – to the core of having had someone "steal my connection to source" when I was a tiny child. Keith helped me to process to the depth of that childhood anger and grief, and I emerged on Friday afternoon with a new love for myself and my inner child … and for others.
After a relaxed Saturday, saying goodbye to many friends, and then carefully backing up my computer, I said goodbye to my little rental house and boarded a tourist shuttle at just after 8:30 a.m. this morning.
Tomorrow morning, at 4:00 a.m., I will board an airport shuttle, taking me to the Guatemala City airport … with my late afternoon destination being Salt Lake City, Utah.
Looking Forward
I have no idea what the future holds. I am preparing to step into yet-another unknown. I will spend the first few weeks regrouping in my homeland – getting a replacement driver license, a new bank account, registering my car, getting a cell phone, and visiting with as many family and friends as possible.
After that, I will put the "pedal to the metal", beginning a road trip into Arizona (and beyond). I feel guided to visit several friends in that area, and I am on a quest of sorts – a quest to find a place to put down some type of roots (perhaps temporary, perhaps longer term).
As I stand at this life threshold, facing a type of homelessness (but having adequate money to settle somewhere) … I know almost nothing about my future. What I do know is that I am carrying fifty-one pounds of cacao in my luggage … that I have a deep yearning passion to write books … and that an inner giggle longs to share what I have learned with anyone who would like to listen (or maybe do cacao ceremonies).
I have never known "less" about my future than I do now … and I have never been more peaceful about that "not knowing" than I am today.
All I can say is "Bring it on" and let the next round of magic begin.
Copyright © 2015 by Brenda Larsen, All Rights Reserved