On Tuesday, July 14, 2015, my Aero Mexico flight soared out of Ecuadorian air space and began to make its way north, eventually hugging the Pacific coast of Guatemala. I wished I had a parachute and could simply get off the plane at this point … but instead, needed to fly all the way to Mexico City, go through Mexican customs, change planes, and then fly back to Guatemala, where I passed through yet-another customs check.
This post contains 76 photos photos telling some highlights of my story on this pilgrimage-of-sorts … a returning-full-circle journey back to my home for three and a half years. A separate post will follow soon – one that documents a journey to the Guatemala jungles.
As usual, the photos in this post are thumbnail images. Please click on any photo to enlarge it. The thumbnails leave much to be desired as far as colors and resolution – plus the thumbnails clip all of the edges. I use thumbnails for the post itself, because it gives people an opportunity to get a summary glimpse without downloading huge amounts of data for the high-res photos.
CLICK ON ANY PHOTO TO ENLARGE TO HIGH RESOLUTION
Guatemala Or Bust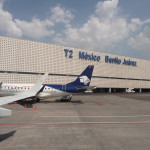 After a whirlwind of activity … disembarking, getting luggage, passing through customs, checking in to a new flight, and passing through security … I finally board my last flight of the day, preparing to make that short hop from Mexico City back to Guatemala City.
This photo was taken from the window of my plane, looking out at the Mexico City airport buildings.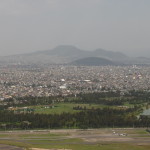 As we take off, the weather is clear … and so is my window. This is just a tiny glimpse of this huge city.
I fondly remember spending time here in September-October of 2009 … back when I was just in the beginning months of this amazing adventurous journey of self-discovery.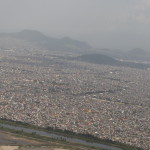 Another view showing portions of the vastness of Mexico City.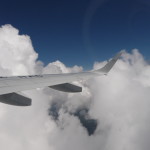 And we finally surface above the clouds.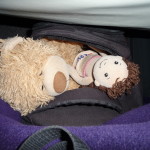 Bobby-bear and Brenda-doll, hanging out in the pocket of my little day-pack, enjoying a breath of fresh air. (For much of our travels, they have had to endure the cramped stuffiness of a zipped-up bag.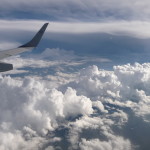 Approaching Guatemala air space.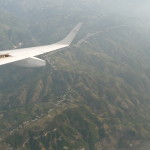 In the highlands of Guatemala, approaching Guatemala City.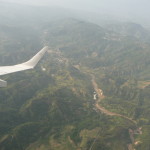 Another similar photo.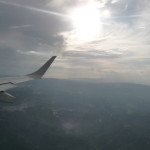 The sun is preparing to set as my plane prepares to land.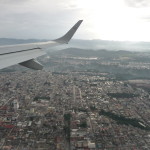 Guatemala City under the wing.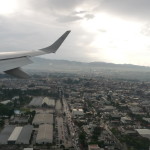 Quickly descending to the tarmac below. With all of the mountains that surround Guatemala's capitol city, the descent angle is steep.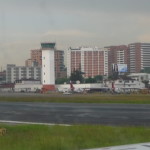 And here we are on the runway.
San Marcos Or Bust
After passing through customs, I stepped out onto the curb looking for the minivans that  regularly take passengers from the airport to the nearby city of Antigua (a safer and more popular tourist destination).
Yet, no such transports were to be found. As I waited, I struck up a conversation with another stranded traveler. He too wanted to get to Antigua for the evening. Within ten minutes of talking to each other, we decided to share the cost of a private taxi … and just a few minutes later we were zooming off through very backed-up traffic.
It was already dark when the taxi dropped me off in front of my favorite little hostel in the city of Antigua.
After arranging for a morning tourist shuttle that would take me to San Marcos La Laguna, I set off on a quest … a quest to find an ATM and a filling meal. Soon, I was in my bed, eagerly waiting for morning.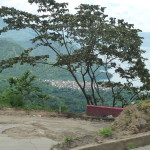 At around 9:00 a.m., the tourist shuttle picked me up at the hostel, and we began the three-hour journey.
I was a little flustered when I could not find my receipt showing that I had paid for the journey … but my driver knew the employee at the hostel who had sold me the ticket, and knew that I was on the passenger list, so he let me ride without my ticket.
At just before noon, we are coming down the steep mountain, into the volcanic crater/caldera that is Lake Atitlan. In this photo, we are turning the sharp corner of a long continuous section of switchbacks that descend into the valley below.
The town visible in the middle of this photo is "San Pablo La Laguna". My destination of "San Marcos La Laguna" is just above and behind that town … barely visible if you click-to-enlarge this photo.
I arrived just in time to find a hostel, check in … and to then rush off for a cacao ceremony.
It was my first time on Keith's Cacao-ceremony porch in more than two years. Keith knew I would be a few minutes late, and even had a cushion reserved for me.
When I had left San Marcos in 2013, I was not sure if I wanted to come back here. It had been a very difficult third-year of ceremonies. Today, I already knew that I was exactly where I again belonged (at least for a few months).
Around San Marcos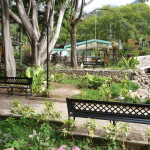 This is a little park in the center of town. I swear that when I first arrived in San Marcos, that this newly-remodeled park was not here.
During all of my time from 2010 to 2013, this area was just lots of trees and dirt, with many large rocks to sit on.
I walked back and forth through this area at least five or six times during my first month here, and it always seemed to be exactly as I remembered it from before.
Then, one day in mid August, I came down here in the midst of deep ceremonial-meditation (just to people-watch) … and after a while, I suddenly noticed the beautiful black metal benches, the stone paths, a little stone bridge and stone-lined stream channel etc …
To this day, it feels as if I literally jumped to a different parallel reality on that day.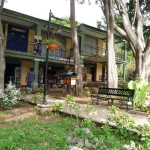 Looking at one side of the now-well-landscaped park … there are two little "super" markets there … both of them quite small (but "super" for this town).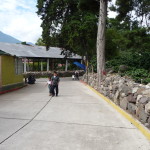 I was thrilled with my "manifestation" results. I arrived on Wednesday, July 14, 2015, and went straight into a cacao ceremony. On Thursday, I began an intense search for a house to rent, and even took a boat ride across the lake to San Pedro (in order to buy a local cell phone).
Just as I was returning with that cell phone, within minutes of attempting to call one property manager (and I had the wrong number), I "accidentally" bumped in to a dear friend who told me where to find the property manager … and as we walked toward where he should be, we "accidentally" encountered him in the path.
Early the next morning, I was moving into my new rental house.
In this photo, I am looking down a street toward another portion of the center of town, near the park in the previous photos.
Behind me is the road that goes up to my new house.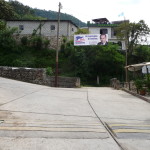 Now I am turned around facing the other way. The road splits here. One part goes straight, across a little bridge. The other part turns left and follows the river a little higher up the valley. My house is to the left.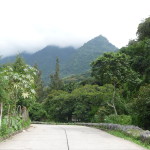 In this photo, I have made the left turn and am walking up alongside the small river bed. My little rental home is just behind those trees in the middle of this photo.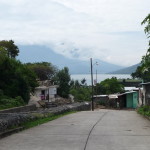 This photo is taken from about the same spot, only turned around and facing toward the lake below.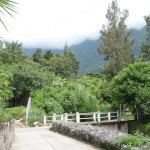 The road I am on dead-ends at this other road, adjacent to a bridge that crosses the river bed.
My house is just across that bridge, and then up beneath those taller trees on the right.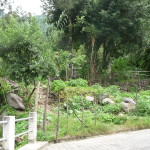 Crossing the bridge …
There used to be a wooden gate here, but someone stole it. Firewood is an important commodity here … and I can only assume that someone needed the wood for their kitchen cooking fire … or perhaps someone needed a new gate, and took advantage of mine.
My house is directly up a path that leaves the road and goes left.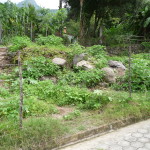 Here is where the gate used to be. Whoever took it, just cut the barbed wire and ripped the double-wide gate out of the ground … leaving the strands of barbed wire just hanging.
(Click to enlarge for details.)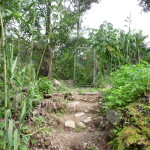 Turning left off the road, I walk up this dirt path. This property actually belongs to someone else.
Up at the top of the path (click to enlarge), there is a green gate on a chain-link fence. I walk through that gate to get into my garden area. It can be locked, but I have never done so, because my friends would not be able to visit.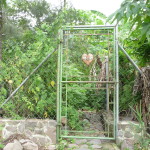 A closer view of the gate that leads into my rental property. A former resident left that metal heart on the entrance.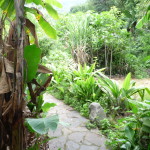 From the gate, I walk up more than 100 feet of rock path. The plants grow very fast here during rainy season, and often, this path is overgrown (and very wet after a storm).
There is a gardener/handyman that cares for my house and property (and several others). This photo was taken after he had recently groomed the plants.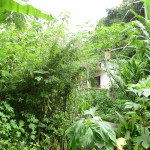 Looking through the lush green plants, barely getting a glimpse of my house in the right center.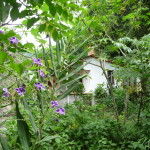 Getting closer to my house.
I love those purple flowers. I often picked a sprig and put it in my hair as I walked out to a Cacao ceremony.
The yard is so overgrown with plants … and so cool and wet from rains … that I am rarely able to use it.
Now, as dry season is beginning (today is November 9, 2015), I would love to spend more time outdoors in this beautiful yard … but alas, I am leaving in just a few days.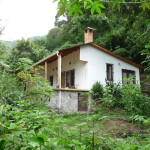 And now, a clear view of my little rental house. It has two bedrooms, a bathroom, and a large living room area … plus that gorgeous balcony in front.
It is right up against a steep hill, so the terrain is quite wild behind me. A large rock rolled down one day when I was not home. It broke part of the way (one side of concrete blocks) through my bedroom wall and then bounced, breaking a rock path below.
And, as of this writing, I have found nineteen scorpions in this house, all released into the wild (away from my house). (I am sad to say that I was not prepared for them at first, and a few did not make it out alive.)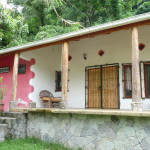 Looking at the front of my house. I am grateful for the bars on the doors and windows.
About a month into my stay here, a young local man tried to break my front door down (while I was inside resting). He had reached through the metal door frame and was shaking the wooden part, trying to break it off the hinges.
I startled him with my yelling and he took off running. I never saw his face. I think he was just as frightened as I was. For me, the experience led to deep and very productive emotional processing.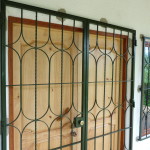 A closer view at the front door. After that robbery attempt, the property owner had additional deadbolts installed on the inside top of the wooden door, such that it cannot move when violently shaken.
I also have a safe inside, where I normally keep my computer when I am not home. I love living in San Marcos, but it is not a place where you can leave valuables around.
… and the water, electric, and internet service are still in varying degrees of "developing" status.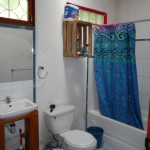 A glimpse into my bathroom. There is actually a bathtub here (though the hot water is incapable of filling it in a timely manner).
This is the first home I have rented where I have gas-heated water (with an instant on-demand heater) … It is not all that reliable, but I even have hot water in the kitchen faucet. It would be really nice if it worked all the time … but often the pipes get clogged with find mud and tiny rocks … and the pressure through the water heater is barely adequate to usually get hot water.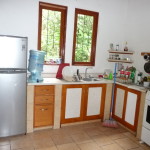 A look at my kitchen. This is also the first house where I have had an oven … but I have never used it (didn't have the proper pans and/or cookie sheets etc).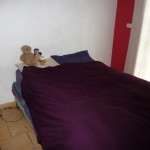 The bed in my bedroom. There is a large double-glass door to the right, but I rarely open it. There are large open-air cracks all around the door frame and casings … and I had to stuff them with toilet paper to keep the critters out. Because of this, it is inconvenient to open the doors, because if I do, I have to then spend twenty minutes replacing the toilet paper.
I had lots of flying ants and bugs and moths (and more scorpions) before I stuffed the cracks with paper.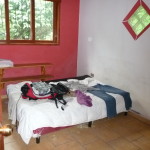 I used the spare bedroom as a closet of sorts.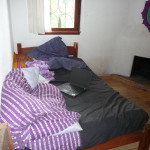 In one end of the living room is an extra bed with a very hard mattress. It serves as my sofa and cushioned work area.
Oh … and that is my new little Lenovo laptop in the middle of that bed. I received it around July 24 … but it took me several weeks to fully configure it.
I was so busy with cacao ceremonies … and so busy configuring the computer … that I just let most all communications and blogging take a back seat.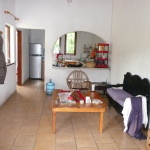 Looking from the daybed area toward the kitchen. It is a very spacious living area.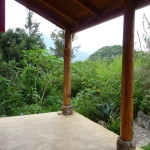 From my front door, looking out on the balcony and the view. It is a hazy day, but you can barely see the "San Pedro" volcano behind the trees in the left center. The lake is also visible through the cracks in the vegetation … but the leaves mostly block that view.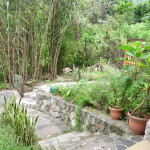 One day I noticed the gardener breaking a hole in the rock wall below, and he then built steps and installed a gate into the neighbors property.
There is a law here stating that each property owner must provide access through their property such that adjacent property owners can reach their own property. I was told that the owner of the property above (to the right) had requested such access.
I was not happy with the prospect of my front yard being turned into a public path, but as it turns out, the owner of that property (at least for now) has not yet developed it, and rarely visits.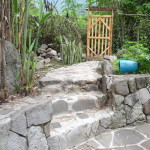 A glimpse of the new path and gate leading to the neighbor's undeveloped property. I received the benefit of having easier access to that back left corner of my property. I burn toilet paper back there … and use it as a compost dump for organic waste.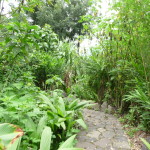 Looking down the main path (on my property) toward the street and green gate below.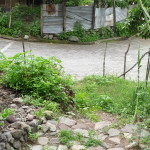 And here is a view from that green gate, looking back down toward the street. My garden worker has since built a rock staircase here, making it much easier for me to get up and down from the street.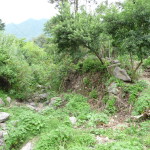 In previous years, I have posted many photos of the river channel that runs through San Marcos.
This is a view of that river channel as seen from above the bridge right next to my property. This part of the river bed is not lined with rock walls to prevent flash-flooding erosion.
If a hurricane or tropical storm were to hang out in this area for very long, I would likely have to evacuate my property. My rental home is just about 150 feet up this river, on the right, less than thirty feet from this river channel.
Back in 2010, a friend of mine who lived here (in the house where I now live) during Tropical Storm Agatha (while I was in my moon course at Las Piramides Del Ka) actually had to evacuate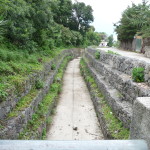 This photo was taken from about the same spot, looking downstream instead of upstream. The downstream portion of the river channel is fully lined with rock walls to channel the water down to the lake below.
For most of the year, this channel is dry … but during huge storms, it can get quite full.
Independence Day
September 15th is the day on which Guatemalans celebrate their independence. Every year they have a small community parade. I have been lucky enough to observe several such parades during my extended time in San Marcos.
Today (September 15, 2015), I first went down to the city center, waiting for the parade to begin. Soon, I realized that the parade would pass directly below my house, and I returned home to watch it from the comfort of the little hill by my green gate.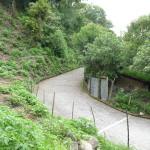 This is a view of the road below my house … directly below my green property gate (and now stone staircase).
This road follows a slight incline up into "Barrio 1" (Neighborhood 1). I often follow this path when walking toward Keith's house for a cacao ceremony. It saves me a few minutes, and takes me around the municipal building and some gorgeous views of the lake below.
The parade will begin at the municipal building and come down this hill.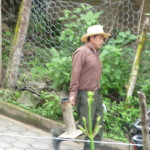 Because I have taken many photos in years past, I limited my photos today, searching out unique things of interest.
This man is walking in front of the parade. He is carrying a metal tube in his right hand – a tube with a square base. Every so often he stops, inserts a "bomba" (firework bomb) into the tube, lights the fuse, and runs. He set off several loud bombs right below my gate.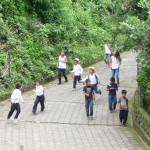 Since I am at the beginning of the parade route, it was not all that "organized" at this point. These kids are just playing as they run down the hill. I am not even sure if they are actually part of the parade. I think they are just excited and playing as the parade follows behind them.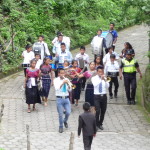 The first entry is this small band from a local school.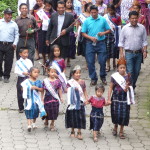 Another entry with beauty queens of varying ages.
You might have noticed that the girls and women here mostly wear traditional clothing … a woven skirt called a "corte" and a traditional blouse called a "guipil".
Most boys and men wear jeans and a western-style shirt. Usually, it is only the older men in more remote areas of Guatemala that wear traditional men's clothing.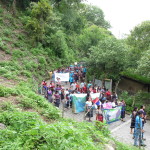 More of the parade. Most of the signs they are carrying have a "conserve the environment" ecological theme.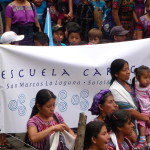 This is a sign for the "Escuela Caracol" (Caracol School).
This is a "charter school" started by westerners. Many local children attend this school … as well as most younger children of western residents.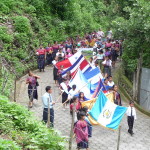 Children carrying various flags. The first one is the Guatemalan flag.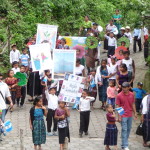 More school children carrying large posters. The one in front says "Environment". Others talk about putting your garbage in a trash can.
Many of the children are wearing "tree" and "flower" costumes.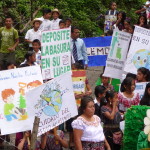 More of these "green ecological" signs carried by the children … again talking about putting garbage where it belongs, and caring for the environment.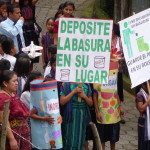 Zooming in on a "Deposit garbage in its place" sign … with children on either side wearing garbage can costumes (one for inorganic and one for organic).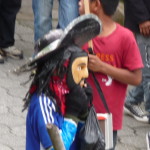 A young man with an interesting mask.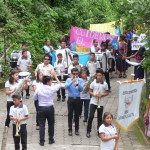 Another band from a local school.
San Marcos has about 3000 residents, with about 2000 of them being children … and there are several schools scattered around.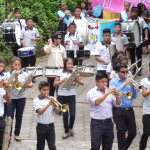 A different view of the same band.
Trumpets, drums, and xylophones are very popular here.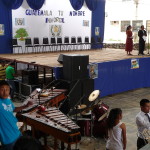 After the parade ended in front of my house, I ran back to the center of town, finding a seat on an upper tier of the concrete seating in the basketball court (and town meeting hall).
They have a stage set up where I will soon watch lots of typical political talking and some school performances.
In the foreground are two marimbas – large wooden xylophones that are quite traditional here in Guatemala.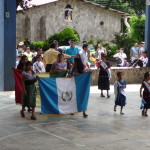 The basketball court is the end of the parade (catholic church in background), and I get here in time to witness the first entries filtering in. They all stand in the middle of the basketball court.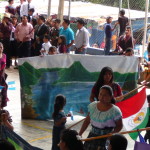 Different views of some of the posters as the parade marchers huddle around in various parts of the basketball court.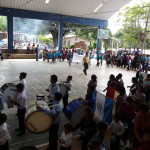 The first band stands in a row, directly below where I am sitting.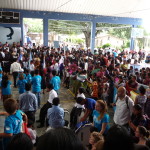 Eventually, the basketball court fills up with parade marchers.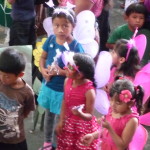 Some cute children in their costumes.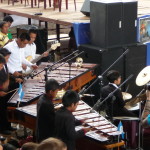 These marimba musicians were quite talented … two men and four boys … all playing in harmonic unison.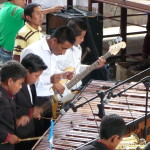 Zooming in on the larger marimba.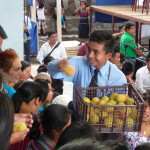 They like their "not-quite-ripe" peaches here. Every year they pass them out free to people in the crowd … helping them have some nourishment during the long slow-moving program.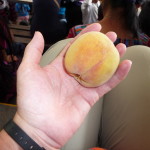 This is my peach. This is the first year I have ever taken one. I ate it an hour or two later. I really was needing that nourishment … and the program was quite long.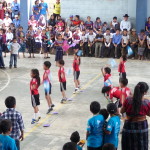 One group of children performing during the program.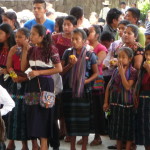 Some women and girls in their traditional clothing, eating peaches and watching the program.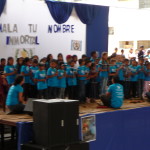 Some children performing on the stage. I think these were from the "Caracol School".
A Beauty Break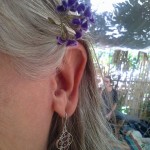 One day in September, I wore some of those purple flowers to a cacao ceremony. My friend Barbara loved them, and asked if she could take a photo. When she posted it on Facebook, I downloaded the photo so I could post it here.
Those are purple flowers from my yard … and that earring is part of a pair that I purchased near Cuenca, Ecuador during one of my tours in June.
Inner Child Ceremony
On September 22, 2015, after a beautiful intuitive therapy (massage, acu-pressure, energy work) session with my dear friend Marta, I was inspired to do a ceremony with little Bobby-bear and Brenda-doll.
During that session, I had realized that I was still seeing my little boy and girl (inner children) as being somewhat separate from each other. In this ceremony, I bought two candles, one for each, and burned them both, allowing them to meld together as the wax burned down.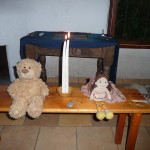 This is Bobby-bear and Brenda-doll, sitting with my two candles. The flames were small at this point.
Later, I had to move my little friends further away, because the merging flame kept getting brighter and hotter.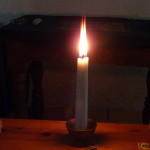 For me, it was a beautiful, emotional and spiritual experience as I symbolically rejoined these two metaphors into a unified symbol – a double candle increasingly merging together.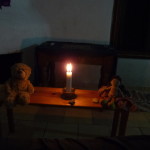 Similar photo, from further away. It took a long time for the large candles to burn … and was quite dark before I ended the ceremony and went to bed (I saved some to burn later).
A Stick Bug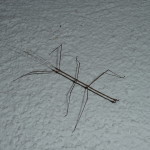 On October 19, 2015 – after a cacao ceremony – I returned home to find this stick bug on the wall by my front door. It was about four or five inches in length (body portion). It blew me away how much it looked like a real stick. Had it not been for the six legs, I would never have even paid attention to it.
The camera flash makes sharp shadows appear below the bug.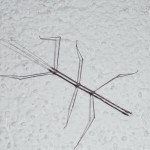 Another photo … quite similar, but with slightly different lighting and contrast.
I looked up "stick bugs" on the internet … and had fun researching them … but as of this moment I don't remember much about them.
San Marcos Wrap-Up
The guidance is quite strong, and I have purchased plane tickets to leave Guatemala on November 16, 2015 … flying back to the United States, were I will take care of many much-needed details with banking etc … after which I will begin a road trip while following intuitive and synchronous events.
Meanwhile, I still have one more photo post to make before leaving the magical vortex of Lake Atitlan, Guatemala. On September 10, I participated in a trip to the Pacific side of Guatemala, where we visited the place where Keith first encountered Cacao in person. Later this week, I hope to post 122 photos from that trip.
At the end of that photo post, I will share more details of my magical journey during the last four months.
But right now, it is time for me to get ready for another cacao ceremony … I'll see you on the flip side.
Copyright © 2015 by Brenda Larsen, All Rights Reserved